California is leaving Texas in the dust in solar energy projects
In spite of its many problems, California is leaving Texas in the dust in solar energy production.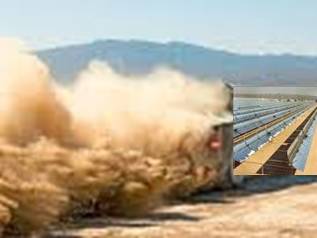 The Obama administration has approved the sixth solar venture authorized on federal lands within the last month for a project in the Mojave Desert near Blythe, Calif.  All of the projects are on federally owned desert in the Southwest that the land management bureau opened in 2005 to solar development.  Even with these six projects and a 7th expected in the next few weeks, solar energy will remain a tiny fraction of overall energy production on U.S. lands compared to the 74,000 oil and gas permits issued in the past two decades
This project will be the world's largest concentrated solar power plant which will use a "parabolic trough" system where parabolic mirrors focus the sun's energy onto collector tubes. The fluid in the tubes is then heated and sent to a boiler, which sends live steam to a turbine to produce electricity, producing enough electricity to more than double the U.S. solar output, power at least 300,000 homes, and generate 1,066 construction jobs and 295 permanent jobs.
Construction on the $6 billion plant is expected to start by the end of 2010, with production starting in 2013. Solar plants that begin construction before Dec. 31 qualify for a Treasury Department grant totaling 30 percent of a project's cost, as part of last year's economic stimulus package.
The project had run into opposition by some environmentalists due to wildlife concerns, but the project will now be required to "provide funding for more than 8,000 acres of desert tortoise, western burrowing owl, bighorn sheep and Mojave fringe-toed lizard habitat to mitigate the project's impacts."
The solar industry is touting the efforts made by the Obama administration and California Gov. Arnold Schwarzenegger to promote solar power, which are clearly beginning to pay off.  Take a hint, Texas.
Stay Updated
on Public Citizen