Austin Energy drought proofs its energy with new Webberville Solar Project
On a blustery and brilliantly sunny Texas winter day a couple hundred Central Texas citizens, that included officials and solar enthusiasts, gathered on what had been an empty 380 acre field only three years ago to usher in a new era of "drought-proof" energy for the City of Austin.
On Friday, January 6, 2012, Austin Energy held a grand opening ceremony for their new Webberville Solar Project, the largest facility in Texas and among the largest in the nation with 127,728 ground mounted solar panels that rotate with the sun and will generate 30 megawatts (MW) of electricity – enough to power 5,000 homes annually.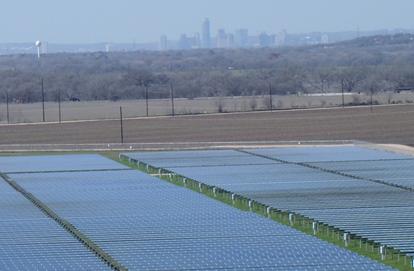 A number of years ago, the City of Austin purchased this land planning to install a new coal-fired power plant.  When those plans fell through, a landfill was proposed for the site that now boasts 280 acres of solar panels with a view of downtown Austin along its horizon.
Public Citizen says kudos to the City of Austin and Austin Energy for their vision and efforts in completing this project.  Given that the State Climatologist is warning us that Texas can expect up to 5 more years of the current drought cycle, this project came just in time to help provide our community with drought–proof electricity during the peak use times – that will come in handy next summer.
Stay Updated
on Public Citizen