2010 Performance Assessment of South Texas Project Nuclear Power Plant
NRC WILL HOLD A PUBLIC MEETING TO DISCUSS 2010 PERFORMANCE ASSESSMENT OF SOUTH TEXAS PROJECT NUCLEAR POWER PLANT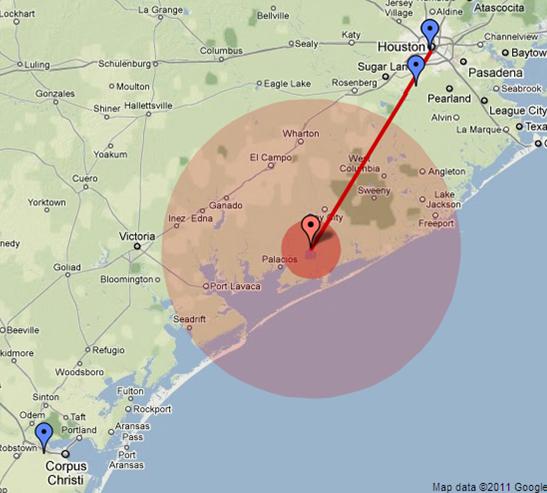 Most of us are familiar with the 10 and 50 mile zones around Fukushima, this map shows those same zones around the South Texas nuclear plant located just 76 miles outside of Houston.
The Nuclear Regulatory Commission staff will meet in Bay City, Texas, on Thursday, May 19, with representatives of South Texas Project (STP) Nuclear Operating Co., to discuss the agency's assessment of safety performance for the South Texas Project nuclear power plant located near Bay City.
The meeting, which will be open to the public, is scheduled to begin at 5:30 p.m. at the Wharton County Junior College (Center for Energy Development) 4000 Avenue F, Bay City, Texas.
In addition to the performance assessment, the NRC staff will be available to answer questions from the public on the safety performance of the South Texas (Nuclear) Project and the NRC's role in ensuring safe plant operation.
The meeting will provide an opportunity for NRC to discuss their annual assessment of the plant with the company, local officials and the public.   NRC will answer any questions attendees may have about their oversight.
A letter sent from the NRC Region IV office to plant officials addresses the performance of the plant during 2010 and will serve as the basis for discussion. It is available on the NRC website – click here to read the letter.
In light of public concerns that have emerged regarding the safety of nuclear plants here in the U.S. in the wake of the Japanese nuclear disaster at Fukushima, this public meeting provides an excellent opportunity for citizens living 10, 50, or even 150 miles away to find out what measures are in place at South Texas Project to protect it's neighbors.
Related Articles
Stay Updated
on Public Citizen