The NYT's mixed messages on cholesterol drugs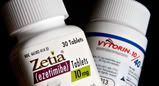 New York Times reporter Tara Parker-Pope writes about the Vytorin controversy in her column, "What that Cholesterol Trial Didn't Show," and on her NYT health blog, Well. Both column and blog seem to state the case that there is a lot of confusion and misinformation about the recent Merck and Schering-Plough clinical trial that found Zetia (a component of Vytorin) doesn't really do much to reduce the risk of heart attacks.
While I respect Parker-Pope, or TPP as she's known on her blog, it is interesting to contrast the tone of her column with what her colleague Alex Berenson has written. See Berenson's story, "Study Reveals Doubt on Drug for Cholesterol," and his follow up, "New Questions on Treating Cholesterol."
One of the points that TPP makes is that a lot is being made about a statistical difference — a comparison of plaque buildup between users of Zetia to that of people on Zocor (the other component of Vytorin) — that she says is so small, it is meaningless.
Her point is taken. But I also think she's ignoring a larger point — that the pharma companies have taken far too long to share their results with the public and that there are some serious questions about whether they've tried to manipulate the interpretation of the data to their benefit.
In the two years that Merck and Schering-Plough have sat on their findings, they've made a fortune selling a "miracle" cholesterol drug that really wasn't any better at preventing heart attacks than taking Zocor by itself.
Several of the people who commented on TPP's blog raise some other great points.
Should patients be concerned? How can you argue otherwise? Here's a link to a CBS interview with Public Citizen's Dr. Sidney Wolfe.
You can find a lot of beneficial information about prescription pills on Public Citizen's site, WorstPills.org.
Stay Updated
on Public Citizen