TCEQ POSTS INTERACTIVE BARNETT SHALE MAP
Live downwind from the Barnett Shale ?
The Texas Commission on Environmental Quality posted an interactive map of the Barnett Shale on its website that allows you to see the latest data from the various air quality monitoring sites near natural gas drilling and pipeline facilities.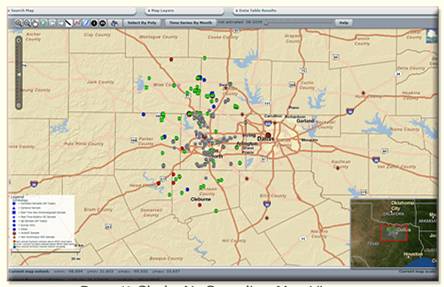 Be forwarned however that the information contained on this website is not for the faint of heart or the  casual internet surfer.  Those who venture through the maze that is the TCEQ website, without much beyond a basic familiarity of the terms associated with measuring the sundry compounds that can escape from gas operation facilities, might find themselves challenged to understand what the map offers.
TCEQ has been under pressure from North Texas lawmakers and from various interest groups to provide the public with as much information as possible about how gas operations in the urbanized Barnett Shale might be affecting air quality. And the introduction of the map comes just four days after the chairmen of the House and Senate committees that oversee environmental regulations prompted the agency to more than double the number of air monitoring sites in the Barnett Shale.
TCEQ also announced today that it plans to hold an open house in the Barnett Shale area in October that will feature interactive displays and presentations where residents can learn about specific regulatory activities in the area. Details about when and where the open house will take place are not yet available but we will let you know as soon as we know.
TCEQ has said that the U.S. Environmental Protection Agency evaluated its monitoring operations in the tiny town of Dish and found no reason to doubt the validity of the test results.
Feeling adventurous?  Want to to spend part of your weekend wandering around virtually through the new interactive map? Click here.
###
By promoting cleaner energy, cleaner government, and cleaner air for all Texans, we hope to provide for a healthy place to live and prosper. We are Public Citizen Texas.
Stay Updated
on Public Citizen