NRC'S TASK FORCE RECOMMENDS CHANGES TO REACTOR SAFETY REQUIREMENTS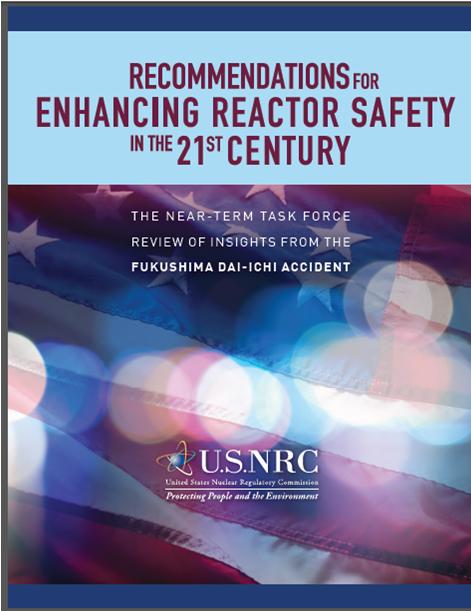 The Nuclear Regulatory Commission's Japan Task Force has proposed improvements in areas ranging from loss of power to earthquakes, flooding, spent fuel pools, venting and preparedness, and said a "patchwork of regulatory requirements" developed "piece-by-piece over the decades" should be replaced with a "logical, systematic and coherent regulatory framework" to further bolster reactor safety in the United States.
The report has been given to the five members of the Nuclear Regulatory Commission, who are responsible for making decisions regarding the Task Force's recommendations.
While declaring that "a sequence of events like the Fukushima accident is unlikely to occur in the United States" and that plants can be operated safely, the Task Force also recognized that "an accident involving core damage and uncontrolled release of radioactivity to the environment, even one without significant health consequences, is inherently unacceptable and proposed a comprehensive set of 12 recommendations to increase safety and redefine what level of protection of public health is regarded as adequate. It also recommended additional study of some issues.
The recommendations looked at ensuring protection, enhancing accident mitigation, strengthening emergency preparedness and improving the efficiency of NRC programs.
The report noted that the current NRC approach to regulation includes requirements for protection and responses for events that the facilities were originally designed to stand up to, such as earthquakes of the largest magnitude, or the highest flood level, or the strongest hurricane that had been experienced in the area at the time the permit was approved.  These are referred to as "design-basis" events.  There are also modest requirements for some "beyond-design-basis" events as well as voluntary initiatives by individual plant operators to address severe accident issues that are part of the NRC's current framework for protection against what happened at Chernobyl, Three Mile Island or Fukushima.  But as noted by the task force, the current approach is piecemeal.
The report recommends a more coherent regulatory framework that balances defense-in-depth (layered security mechanisms that increase security of the system as a whole) and risk considerations that includes, but is not limited to:
Requiring plants to reevaluate and upgrade as necessary their seismic and flooding protections and reconfirm every 10 years;
Strengthening Station Black Out (SBO) systems so that plants could cope with offsite or onsite power outages for a minimum of 8 hours; establishing equipment, procedures and training to keep the core and spent fuel pool cool at least 72 hours; and developing plans for offsite resources to be delivered to the site to support uninterrupted core and pool cooling;
Requiring that emergency plans address prolonged station blackouts and events involving multiple reactors;
Requiring additional instrumentation and seismically protected systems to provide additional cooling water to spent fuel pools if necessary;
Reviewing vent designs and identifying, as part of the longer term review, insights about hydrogen control and mitigation inside containment or in other buildings.
We now wait to see if and how the NRC will incorporate these recommendations into their licensing and regulatory authority over the U.S.'s nuclear fleet.  It is doubtful that this will slow the rush to relicense that is occurring around the country as plants near the end of their planned life.
Click here to read the full 79-page report.
Stay Updated
on Public Citizen