NOAA Report – Global warming has made 2011 Texas heat wave about 20 times more likely to happen during a La Nina year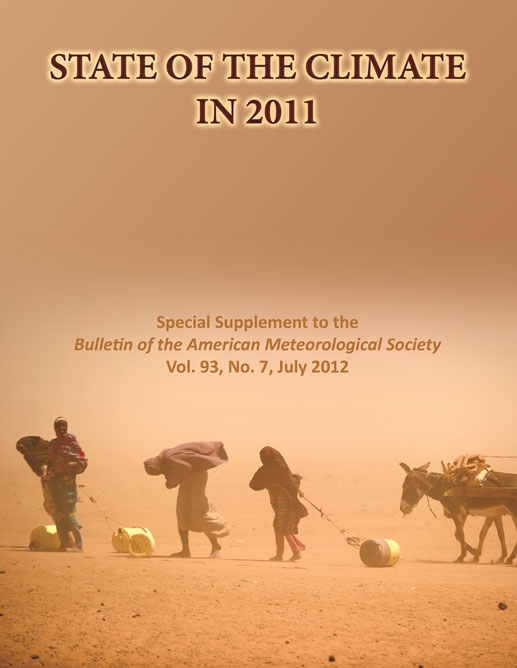 According to a story on MSNBC, scientists can't blame any single weather event on global warming, but they now believe they can assess how climate change has altered the odds of such events happening,   Click here to read the AP story, Global warming tied to risk of weather extremes.  Click here to download a copy of NOAA's State of the Climate 2011 Report.
Tom Peterson of the National Oceanic and Atmospheric Administration is an editor of the report that includes the analyses published by the Bulletin of the American Meteorological Society one of which looked at the Texas drought last year.  If you are from Texas you know that we suffered through record heat and low precipitation in 2011 that left most of the state in "exceptional" drought (the highest level of drought classification) well into 2012.
Meterologists attribute last year's weather in the south to a La Nina weather pattern, caused by the cooling of the central Pacific Ocean, La Nina generally cools global temperatures but tends to make the southern United States warmer and drier than usual.  In the report analysis, scientists wondered, beyond that, would global warming affect the chances of such an extreme event happening?
To find out, they studied computer climate simulations for La Nina years, focusing on Texas. They compared the outcome of three such years in the 1960s with that of 2008. They used 2008 because their deadline for the study didn't allow enough time to generate thousands of new simulations with fresh data from 2011.  The two years were similar in having a La Nina and in amounts of greenhouse gases in the air.
The idea of the study, they said, was to check the likelihood of such a heat wave both before and after there was a lot of man-made climate change, which is primarily from burning fossil fuels like coal and oil.
Their conclusion: Global warming has made such a Texas heat wave about 20 times more likely to happen during a La Nina year.
This has grave implications for Texas for the next La Nina pattern.  Over the last several months, Texas legislators have been meeting and taking testimony about the drought's impacts on the states' water supplies and stability of our electric grid.  Right now, policies are being put in place that makes it more attractive for electricity generators to pull old polluting plants out of mothball and run them full out during times of electrical shortage emergencies rather than investing in peak energy use forms of renewable energy (like solar and coastal wind).  This creates a vicious cycle – increasing global warming gasses emitted, that increase global warming, that increases the likelihood that we will have more extreme heat waves during La Nina years, and on and on.
Texas needs to incentivise a move away from sources of electric generation that contributes to both global warming gas emissions and intensive water use.
Stay Updated
on Public Citizen