Heat and drought; what's a state to do?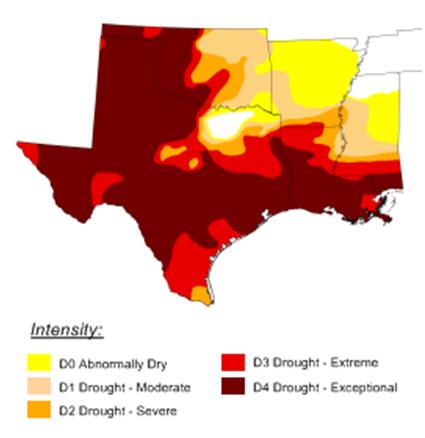 We've blogged numerous times about the persistent heat and drought plaguing the Southern Plains (particularly Texas) this year. Much of Texas is off a June that ranks among the top five hottest in history. According to the National Climatic Data Center, Texas had their hottest June on record and of the six record hottest June cities, 5 were in Texas.
Record hottest June in Texas, surpassing June 1953!

Record hottest June cities: Lubbock, Midland, San Angelo, Houston, Galveston, Wichita Falls, and Columbus, Ga.
There has been no letup in July so far and the number of days with 100-degree temperatures continues to climb. Since the beginning of June to the beginning of July, Texas has seen the highest levels of drought — rated as "exceptional" — jump from  50.65 percent of the state to 72 percent of the state.
Dallas, Texas
16 100-degree days through July 10 —the annual average is 18 days;
Most 100-degree days in a year: 69 in 1980.
Austin, Texas
27 100-degree days through July 10 —more than double the annual average of 12 days;
Most 100-degree days in a year: 69 in 1925.
Even if you don't believe in anthropogenic climate change, the last 10 years have been the hottest in the last 440,000 years, at least if the Vostok and Greenland ice cores are any indication.  And whether or not you think we can mitigate global warming, here in Texas we need to carefully consider one of our state's most precious resources, WATER!
So when industries, like coal-fired power plants, nuclear plants, natural gas fracking – to name a few that use large amounts of water, are about to sign contracts with the water districts, or river authorities, we should all show up and demand that they show us we indeed will have water available for the people who live in the area.
Stay Updated
on Public Citizen