Fossil Fuels Are the Problem, Not the Solution
By Alan Zibel
The war in Ukraine should serve as a clarion call to kick our addiction to fossil fuels and speed the transition to a fossil-free future.
But fossil fuel executives and their political allies are using the war to increase, rather than decrease, our dependence on dirty fuels. They're doubling down on their tired old talking points and pushing a return to the Trump-era drill-everywhere agenda. Rather than building a sustainable, renewable future, these policies would continue to enrich dictators and fossil fuel executives while doing great harm to the planet.
In the wake of the Russian invasion, the nationwide average price for a gallon of gasoline has rapidly risen above $4 per gallon and far higher in some places. Crude oil prices have spiked, raising fears of a global recession.
With outrage over Russia's war in Ukraine mounting, the U.S. moved to ban Russian oil imports, creating the need to find a substitute. In retaliation, Russia is now threatening to cut off European natural gas supplies, raising the prospect of a worldwide energy crisis.
In response, oil industry executives are ramping up pressure on the White House and Congress to roll back regulations and allow further expansion of domestic oil drilling, pipelines and export terminals. Doing so would not fix high gasoline prices. These long-term projects would take years to construct, would not do anything to alleviate short-term supply problems and would deepen our dependence on fossil fuels while ignoring the grave danger of climate change. 
Even before the Russian attack on Ukraine, the American Petroleum Institute published a series of misleading and opportunistic social media posts about boosting oil production in the United States.
Using red, white and blue imagery, API claims it seeks to  "unleash American energy" and "protect our energy security." The trade group said the Biden administration must "release permits" on federal lands and ramp up offshore drilling. Last month,  API sent a letter to Energy Secretary Jennifer Granholm urging the Biden administration to ramp up offshore and onshore drilling and exports of domestic fuel.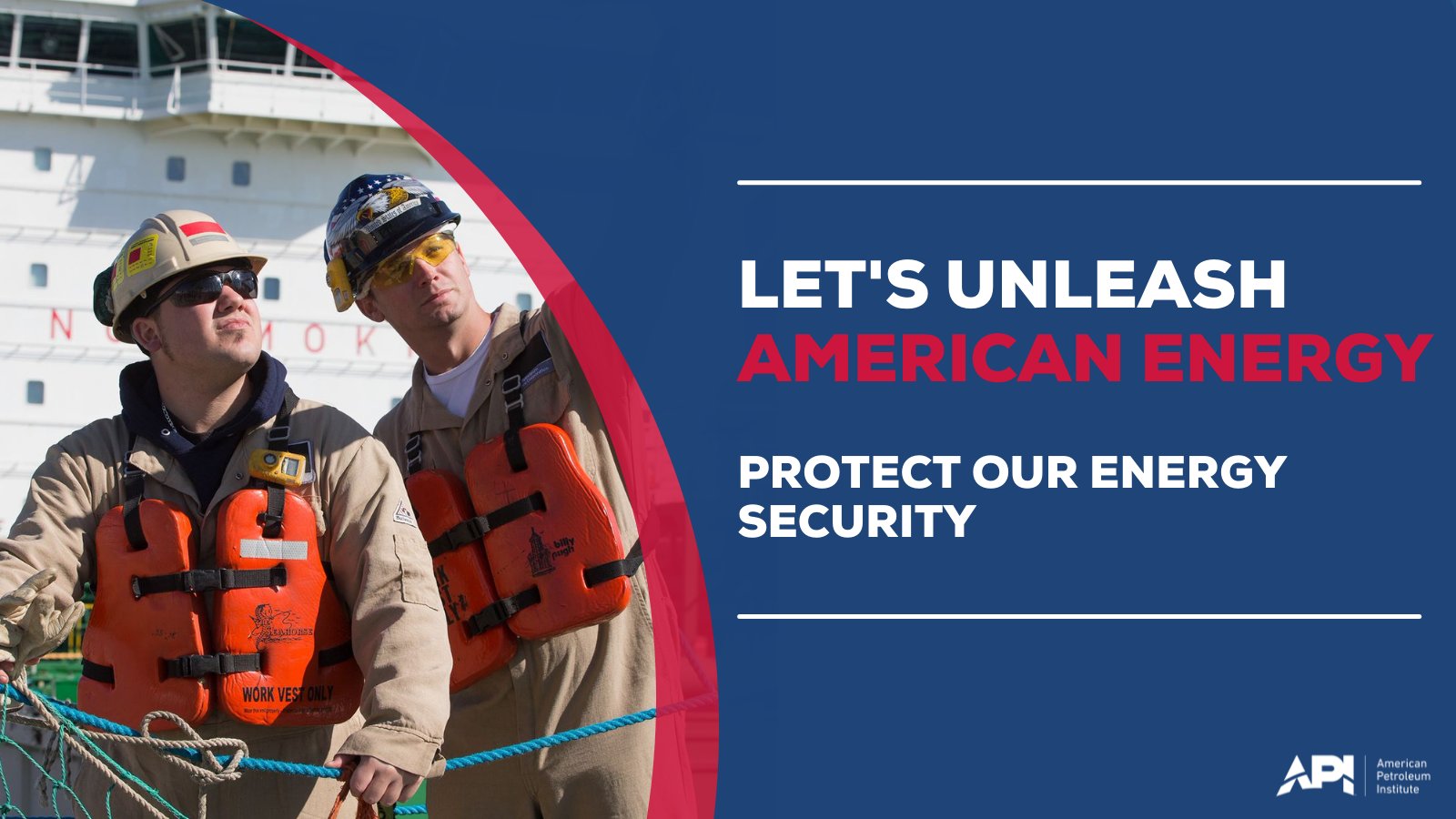 The CEO of drilling company Devon Energy recently suggested that the White House formally request that the domestic oil industry pump more oil, to "provide some cover" from shareholders upset by the industry's lack of financial discipline, poor shareholder returns and hundreds of bankruptcies over the past decade.  
Last week, 25 Republican governors called on the Biden administration to "protect our national energy security and sell to our friends rather than buy from our enemies—specifically Russia." Republican senators urged the White House to change course and return America to its dominant role in global energy." Sen. Chuck Grassley (R.-Iowa) even tweeted that "AMERICA NEEDS ENERGY INDEPENDENCE we had energy independence b4 Biden energy policy killed it."
These self-serving responses to the war in Ukraine conveniently ignore the facts about U.S. oil production and inaccurately seek to link Biden administration policies to gasoline prices for political effect. The oil industry and Republicans have been using this same tactic for the past 12 months, even though it conveniently ignores basic economics. Higher prices are already luring the industry into boosting drilling without any government intervention.
"There's nothing holding these folks back from producing more oil if they want to," Bharat Ramamurti, a top White House economic adviser, said in a Bloomberg interview.  "Prices are quite high, the price signal is strong. If folks want to produce more, they can and they should. The idea that there is some kind of severe restriction on that production is simply untrue."
The oil and gas industry is already the recipient of generous government subsidies. It doesn't need, and should not receive, any more help from the government to boost production. Most U.S. drilling happens on privately owned or state-owned land. Only a small portion is on land or waters controlled by the federal government.  In 2020, the most recent year for which data is available, only about 20% of production was from public lands, offshore waters or Native American lands.
Federal Share of U.S. Oil Production, 2020
| | | |
| --- | --- | --- |
| Land Type | 2020 Oil Production (Barrels) | Pct of total |
| Federal offshore | 505,734,520 | 12.2% |
| Federal onshore | 265,270,135 | 6.4% |
| Native American | 80,570,945 | 2.0% |
| Total Federal | 851,575,600 | 20.6% |
| Total Production | 4,129,563,000 | 100.0% |
Perhaps oil and gas industry executives are nostalgic for former President Donald Trump's administration, which was staffed with fossil fuel industry allies and never saw a fossil fuel giveaway it didn't like. The Trump administration named fossil fuel lobbyists to run the Environmental Protection Agency and Interior Department, where they gutted environmental regulations, allowed the oil and gas industry to drill with no limits  — and even sought to stall the progress of renewable energy projects.
The Trump administration eagerly let the industry maximize production while ignoring the environmental consequences, and fossil fuel companies have ramped up production on federal lands in recent years. That trend has begun to recede under Biden, but drilling on public lands remains high.  Federal drilling permit data analyzed by Public Citizen (below) shows that the industry in 2021 received more permits to drill on public lands than three out of four years during the Trump administration. The industry has stockpiled more than 9,000 drilling permits for use on public lands.
Nationwide, oil and gas production has soared over the past 15 years. Though domestic production has surged over the past decade, so have exports. In 2015, Congress voted to lift the 40-year old ban on exporting oil from the United States, and exports have since surged. Exporting oil puts upward pressure on domestic prices, and also encourages additional domestic fracking. The high-cost business model of domestic fracking relies on being able to sell crude for higher prices on the global market.
Over the past year, Republicans and the oil industry have consistently distorted the truth about what affects fuel prices. They've repeatedly blamed short-term price spikes on the Biden administration's longer-term energy policy decisions to build a more sustainable future and make us less reliant on fossil fuels.
A case in point is the Keystone XL pipeline, which would have brought oil from carbon-intensive Canadian tar sands to Gulf Coast refineries for export to other countries. Supporters promote misleading claims that the pipeline's suspension under Biden is to blame for high gasoline prices.  But by increasing petroleum exports, the pipeline could have raised gasoline prices for consumers rather than reducing them. 
Shortly after coming into office, Biden paused the sale of new federal oil leases, pledging in a January 2021 executive order to conduct a comprehensive review of the policies governing the leasing of publicly owned land for oil and gas drilling. But the Biden administration has been stymied in its efforts to scale back the Trump-era oil drilling bonanza and has been engaged in several court battles on the issue.
Back in 2006, President George W. Bush, himself a Texas oilman who pushed for more domestic drilling and resisted efforts to increase fuel efficiency, declared in his State of the Union address that 'America is addicted to oil.' Bush was applauded when he unveiled a blueprint to replace petroleum. 
Though the Bush-era efforts to move away from oil imports and toward biofuels may have been counterproductive, the promise of electric vehicles has been realized. Sales of electric cars are soaring. Wind turbines and solar panels are producing record amounts of power. Renewables are increasingly competitive with fossil fuels. 
We must shun the corporate profiteers who seek to use war to promote fossil fuels. Instead, we must do everything we can to encourage a rapid move to an electrified system of transportation and home heating powered by renewable energy. 
Only by doing so can we finally end our disastrous, self-defeating oil addiction and build an economy that does not rely on fossil fuels.
Stay Updated
on Public Citizen